or by mail (click for address)
******If PayPal, please add a note to request gift (and size)******
T-shirt — $50
100% white cotton, made in the U.S.
One style: S, M, L, XL, XXL, XXL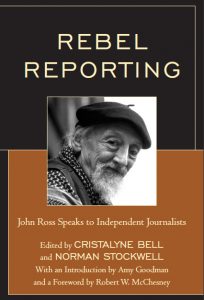 Book — $80
Rebel Reporting:  John Ross Speaks to Independent Journalists
EDITED BY NORMAN STOCKWELL AND CRISTALYNE BELL – INTRODUCTION BY AMY GOODMAN – FOREWORD BY ROBERT W. MCCHESNEY – with an appendix by Catherine Komp of Free Speech Radio News;  Laura Brickman of WORT-FM.
This book is truly a "manual of style" for rebel reporters, and a compelling read for anyone interested in independent media. Written in the powerful voice of the late John Ross, who believed that journalism is not a profession, but rather a moral obligation. The book contains a series of lectures on how to do "Rebel Reporting," followed by an example of how it is done through the story of the murder of Indymedia reporter Brad Will. The book showcases the importance of independent media outlets like Free Speech Radio News in bringing real stories to light in spite of a commercially dominated media landscape. It provides instructions on how to document injustices and poetically pitch stories to audiences in order to create change in society and concludes with an appendix that will serve as a useful toolkit for any reporter.
Calendar — $40 Sale price, the year's almost half over but the art is still is great!
FSRN 2016 Oaxaca Street Art
PHOTOGRAPHS BY SHANNON YOUNG
FSRN's 2016 Oaxaca Street Art calendar includes images of murals in and around Oaxaca,  many of which are quickly disappearing. Downtown Oaxaca City is a UNESCO designated World Heritage zone. In many ways the city itself is an open-air art gallery in which muralists use buildings as canvas, incorporating architectural elements of the structures into their art. During a six-month long popular uprising of 2006, many muralists made names for themselves on the buildings of Oaxaca City. Much of the frustration of the uprising was directed against the PRI, a party that ruled the state for eight consecutive decades. An opposition politician won the governorship in 2010 and the state Secretary of Culture commissioned muralists for some limited public works projects.
Recently, the Oaxaca City government was retaken by the PRI, and the murals are now quickly disappearing.  Municipal "take down" citations suggest that the murals endanger the cultural heritage of downtown Oaxaca City — despite the fact that UNESCO considers cultural heritage to include intangible, living elements as well as the built environment.

Book — hardcopy $100, ebook (Kindle edition) $50

"#Thugs": From Ferguson to LA 2014-2015
PHOTOGRAPHS AND TEXT BY LENA NOZIZWE
A selection of photographs from the book are currently on display at the Los Angeles Museum of Social Justice. The exhibit runs through October, 2016. Available in both ebook and print versions, the book features photographs of and interviews with protesters who represent the thousands who took part in demonstrations throughout Los Angeles, California and throughout the world in the year following the police shooting death of Michael Brown in Ferguson, Missouri.