LA residents affected by pollution from shuttered battery plant say slow cleanup adds insult to injury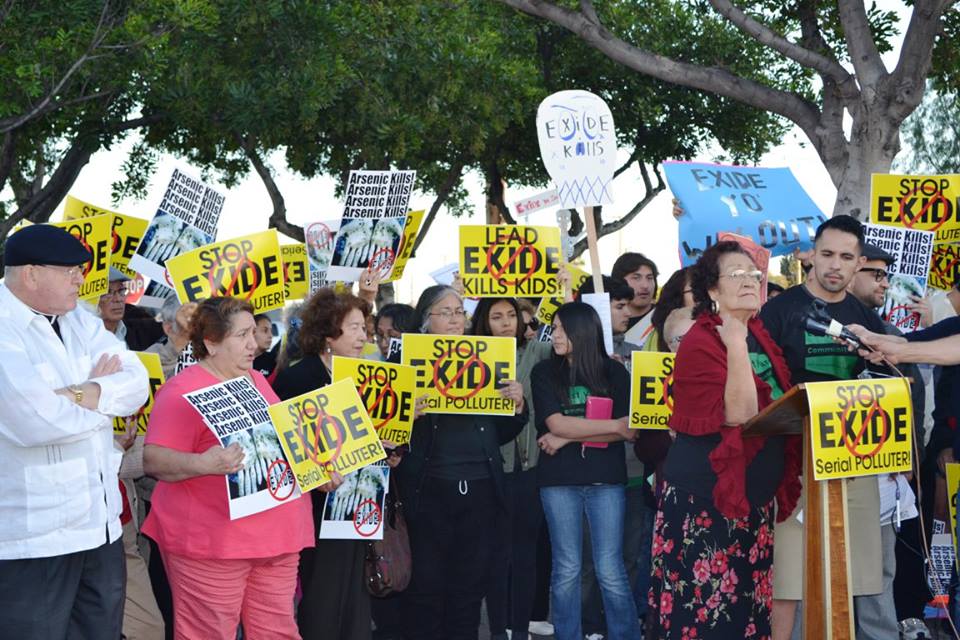 Attorneys with the NAACP filed a federal class action lawsuit last week on behalf of residents of Flint, Michigan affected by lead contaminated water. While national attention has been focused on the Flint crisis since late last year, another environmental disaster in Los Angeles has been unfolding for much longer – nine decades in fact – and most Americans aren't aware of it.
For years, a battery recycling plant most recently managed by Exide Technologies leached lead and other carcinogens into the soil, air and water in surrounding residential neighborhoods. Residents say the company's shutdown took too long and that cleanup efforts are also sluggish. Many of them are taking matters into their own hands. Larry Buhl has more from Los Angeles.
Youth activists for Communities for a Better Environment are door knocking in the city of Bell, California, southeast of downtown Los Angeles. They're telling residents to fill out access agreement forms giving consent to the state Department of Toxic Substances Control to analyze their soil for lead contamination. And they're informing them about the most recent developments in the cleanup.
Activists in the area were successful in getting the Department of Justice to shut down the plant last year after it became clear that Exide, and the companies managing the battery recycling plant for nearly ninety years, had been polluting the ground, water and air with lead and other hazardous substances.
Closing the plant was only the first battle. Activists say the cleanup process has been slow and the communication about progress has been less than clear, despite a packet of information from the California Department of Toxic Substances or DTSC. That's why environmental campaigners are knocking on neighborhood doors.
"People either don't trust the government, don't have faith in it or don't have sufficient information," says Milton Hernandez, Youth Program Coordinator for Communities for a Better Environment. "The packets that the Department of Toxic Substances Control created don't really explain the harm that Exide did or the danger it put all these people in."
The residents of these largely blue collar and Latino neighborhoods near the closed Exide plant have good reason not to trust the government.
Government regulators fined Exide for releasing dangerous chemicals into the atmosphere until the DOJ shut the plant down in March 2015. But neither the company nor the government warned residents that they may have been exposed to lead and known carcinogens, like arsenic and benzene, for decades.
Residents blame the DTSC for being too slow in its efforts to crack down on the company. The department levied only seven fines on Exide over two decades, took no effort to shut the plant down, and has admitted that it dropped the ball on regulating the company.
"This company completely disregarded this community and knew that it was operating illegally for over thirty years," explains Mauro Barrera, a volunteer with Youth for Environmental Justice whose family lives in the area. "This agency that was supposed to protect us was fining this company. And this company paid those fines instead of fixing its own equipment, instead of complying with the law.  And it kept doing this, it kept constantly polluting us, literally poisoning us.
Earlier this year, California Governor Jerry Brown set aside $176 million to jump start the cleanup effort. But area residents like Joe Gonzalez are wary that the DTSC is in charge of the clean up.
"We have to look into a way as a community to get this $176 million dollars out of the hands of the culprits of this contamination," Gonzalez says. "That's not only Exide. The co-conspirators are also the DTSC, they are the agency who admitted that they failed."
The interim director of public health for LA County has said that lead contamination could affect up to 10,000 homes within a 1.75-mile radius of the shuttered Exide plant. And a recent analysis by the California Department of Public Health found slightly elevated levels of lead in children living within two miles of Exide, but it didn't determine what the source was. It was confirmation of what many residents feared: that they're not safe, and the government still doesn't know how unsafe they are.
In presenting the findings at a recent public hearing, the deputy secretary for science and health at the California Environmental Protection Agency, Gina Solomon, cautioned that the study's focus was too narrow to extrapolate to the plant's surrounding area.
"The conclusion from this investigation is, that although there is evidence of soil contamination from Exide and DTSC is very rightly focused on cleaning up that soil contamination, the news is somewhat reassuring on blood leads in that we didn't see a dramatic increase in blood lead in young kids in that area that's significantly above what we might otherwise expect to see in other parts of LA. That doesn't mean it's okay. And it also doesn't mean that there isn't something going on," Solomon points out.
The area has a new advocate in Hilda Solis. The former U.S. secretary of labor is now an LA County supervisor. She's set aside $2 million in county funds to create small teams that can quickly test properties for lead.
Residents worry that the funds won't be enough. And they point out similarities to Flint, Michigan. In both regions, low-income people of color suffer from lead contamination while public officials respond with indifference.