Election 2014: Wisconsin battle for Governor's mansion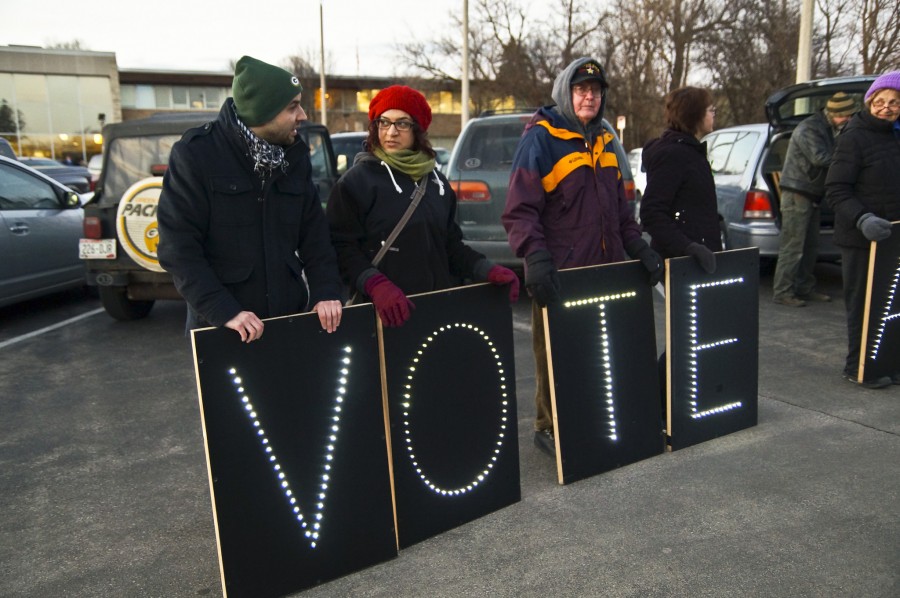 Wisconsin is locked in a tight race for Governor. Scott Walker, best known for his union-busting law which sparked massive protests and a Capitol occupation, is up for re-election. If he wins this race, he is widely expected to seek the Republican nomination for President next. Molly Stentz reports from Madison.
Polls show the race for Wisconsin Governor to be extremely close.
Governor Scott Walker is running his third campaign in just four years. Having won the state's highest office back in 2010 amidst a wave of Tea Party activism, he handily fought off a recall attempt in 2012, winning even more votes the second time around.
Now voters will choose whether or not to give him another four years at the helm. He's campaigning largely on an economic platform.
"As I travelled the state four years ago, I decided then and there that I was going to aim high and set a big goal of 250,000 jobs," said Walker during the most recent gubernatorial debate. "Now, we've come a long way, but we're not done yet. Think about it. We went from losing 133,000 jobs in the four years before I took office, to gaining more than 100,000 jobs since."
Walker's strongest support has come from energy, mining and manufacturing sectors, as well as billionaires Donald Trump and Sheldon Adelson. He's raised more money from out of state donors than from within Wisconsin.
Running against Walker is a little-known Democrat named Mary Burke. She's a Madison School Board member and philanthropist whose family started the Trek Bicycle company. She was the former head of the State Commerce Department and has been running on her business experience.
"As a businessperson who helped create good-paying jobs here in Wisconsin, I know how to do this," she stated during the final debate of the campaign season. "First, we're going to invest in education, not cut it. Second, stop the tax breaks to the wealthy and special interests and focus on the middle class and on small businesses. And third, reduce the cost of college."
The campaigns are sharply divided on social issues. The Walker administration fought to keep Wisconsin's ban on gay marriage, though it was overturned by courts earlier this year. Walker also signed a series of anti-abortion laws, including one barring state funds from supporting Planned Parenthood health clinics, one requiring invasive ultrasounds, and one requiring abortion doctors to have admitting privileges at local hospitals.
Burke, in contrast, has been endorsed by Planned Parenthood and supported by Emily's list, as well as a number of large environmental groups and unions. Burke has said she supports collective bargaining for unions, but stopped short of saying she would work to repeal the Governor's controversial law banning it.
In a state starkly divided – one that elected a Republican governor twice and then re-elected a Democratic President – the campaigns have focused their efforts on turning out their supporters.
The Burke campaign has been lining up political celebrities to build excitement: Wisconsin has had two recent visits from First Lady Michelle Obama, and one by former President Bill Clinton on Milwaukee on Friday, and one by President Obama himself expected next Tuesday.
The campaign is trying to entice those nearly half a million Wisconsin voters who showed up at the polls to re-elect President Obama in November of 2012, but who sat out the recall election just a few months prior. The campaign has been focusing on motivating students, women, and African American voters in Madison and Milwaukee, in addition to appealing to moderate swing voters in Western Wisconsin.
In her recent visit to Madison, the First Lady put it this way: "If women and minorities and young people show up, Mary wins. She wins!"
One factor with an unknown impact on voter turnout is the state's on-again, off-again Voter ID law. The law will not be in effect this election, after a temporary intervention by the US Supreme Court. Voters will not have to show photo identification to vote, but there's a good chance some voters will be confused, since the law did survive multiple lawsuits and was ruled constitutional by both state and federal courts earlier this year.
Another lingering issue in the campaign is John Doe II.
Thousands of potentially embarrassing emails between Walker and his staff were released to the public this week as part of a criminal investigation known as John Doe. Walker was not charged as a result of the first investigation, though six members of his staff were convicted for theft and misconduct, including campaigning on county time.
A second investigation is pending, though currently on hold until after the election, due to a judge's order. That investigation centers on whether the Walker campaign illegally coordinated with conservative political groups during the recall election. One of those groups, the Wisconsin Club for Growth, has sued the state in retaliation, charging that the law chills political speech.
Together, the campaigns and the groups that support them, have spent $5 million dollars in political ads in this race. Election Day is November 4th.