Dakota Access pipeline once again on hold as Standing Rock supporters stage day of action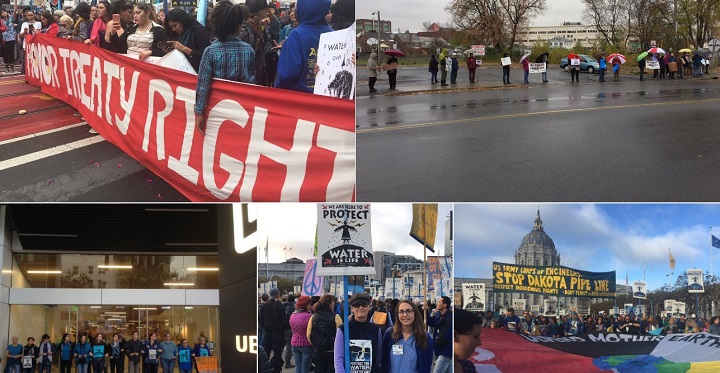 The U.S. Army Corps of Engineers has issued another delay in the permitting process for the controversial Dakota Access pipeline. The stall came in a statement issued one day before a National Day of Action against the project in which events were scheduled not just across the country – but around the world. FSRN's Nell Abram has more.
Protesters in Delaware joined hundreds of rallies and marches Tuesday as part of a day of action against the massive Dakota Access pipeline project that, if completed, would move crude oil from the Bakken oilfields near the Canadian border to a transfer hub in Illinois.
Many of the events were held at Army Corps of Engineers District offices around the country – where protesters called for a full rejection of the pipeline. Other actions targeted banks involved in financing the project, and energy companies with a stake in what indigenous opponents call the "black snake."
"We need sincere action in order to stop this pipeline, to protest the drinking water of millions of people, to protect the sacred integrity of the land here, to the Hunkpapa oyate – the people of the Standing Rock Sioux Nation – but also to take sincere steps to address climate change," says Dallas Goldtooth with the Indigenous Environmental Network.
Just ahead of the coordinated protests, the Army Corps of Engineers issued a statement Monday saying after nearly two months of review, they need more time. The Army Corps specifically invited the Standing Rock Sioux Tribe to provide any input they think is relevant to the controversial pipeline permitting. No end date was indicated, but the statement was clear – until further notice no construction on or under Corps land may occur.
Energy Transfer Partners, the company behind the four-state, nearly $4 billion pipeline has been waiting for the Army Corps to grant easements allowing it to drill down and then beneath Lake Oahe, adjacent to the Standing Rock Sioux reservation. The tribe says that the project imperils their water supply, threatens sacred sites – some of which have already been destroyed – and violates their sovereignty.
Despite repeated requests from the government to voluntarily halt work during the review process, the company has continued construction right up the to the banks of the lake.
Just hours after the Army Corps extended its delay, Energy Transfer Partners petitioned the U.S. District Court in Washington, D.C. to intervene and stop what they say is the Obama administration's interference in the process. It's unclear when the court will rule on their request.