Wisconsin election officials announce recount plan and timeline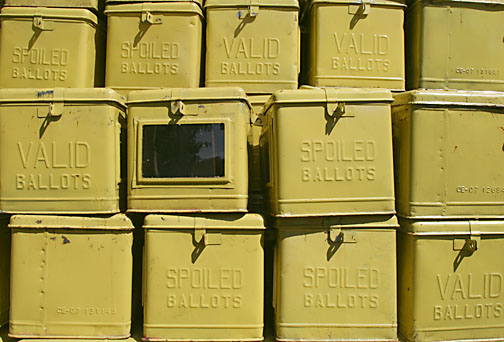 Wisconsin election officials will begin recounting votes in the presidential election this week, but not until Thursday and not by hand. The recount comes as a result of a flash fundraising campaign and petition by Green Party Candidate Jill Stein – who also hopes to trigger the same in Michigan and Pennsylvania. FSRN's Nell Abram has more.
The Wisconsin Election Commission held an open meeting and news conference Monday to announce their recount plan, saying the tally will start Thursday, but only if the bill is paid up front. The current estimate for the job is one million dollars. Green Party candidate Jill Stein kicked off a fundraising campaign last week – by Monday afternoon she'd raised more than 6 million dollars.
For the first time in more than 20 years, Wisconsin voters elected a Republican for president – by a slim 22,000 vote margin. Stein, who garnered 1.1 percent of the votes in the state, says a recount is necessary to "build trust in the electoral system."
The latest ballot tallies show Democrat Hillary Clinton won the popular vote nationwide by a margin of more than 2.2 million.
President-elect Donald Trump took to Twitter Sunday, claiming to have won both the electoral college and the popular votes, "if you deduct the millions of people who voted illegally."
Wisconsin Election Commission Chair Mark Thomsen publicly took issue with that: "From my point as that chair of the commission, I think it is most unfortunate that the president-elect is claiming there's huge with our system and that's feeding what I call this conspiracy theory. Personally I'd like him to come down out of his Trump tower and go off to Wautoma in Waushara county and spend the time with the folks on the ground that are counting these votes. I mean he won that county.  But to say that it's not being fair or that people are counting illegal votes, from my vantage point, is an insult to the people that run our elections. We have 1,854 municipal clerks and 72 county clerks. They deserve better treatment."
The Clinton campaign said over the weekend that the Democratic candidate would join the Wisconsin recount effort. While not expecting the outcome to change considerably, they feel their interests should be represented during the process.
The Green Party candidate wants the ballots counted by hand, but election officials say that won't happen automatically. The mechanics of a recount are complicated and involve 24-hour public notice in every county and potentially reprogramming some voting machines.
"It is up to each county canvass board whether or not the recount is conducted by hand or by voting – by tabulating equipment under state law," said Commission administrator Michael Haas. "The only way around that is if the candidate seeks a court order that is granted to require a hand count statewide. The burden of proof seems to be fairly in the statutes, but that would be up to candidate to initiate that action."
Stein quickly announced plans to sue.
Time is of the essence. Under U.S. law, any recounts must be finalized within 35 days of an election day – this time that's December 13th. The last time Wisconsin conducted a recount, it took month to complete.
Efforts to force a recount in Michigan are also underway, and Stein has filed a lawsuit in Pennsylvania asking the court to order a statewide recount to circumvent requirements that voters request a recount in each county in the state.
The Electoral College is due to cast ballots December 19th, thereby making the election results official.