Boston protest blocks entrance to immigration detention facility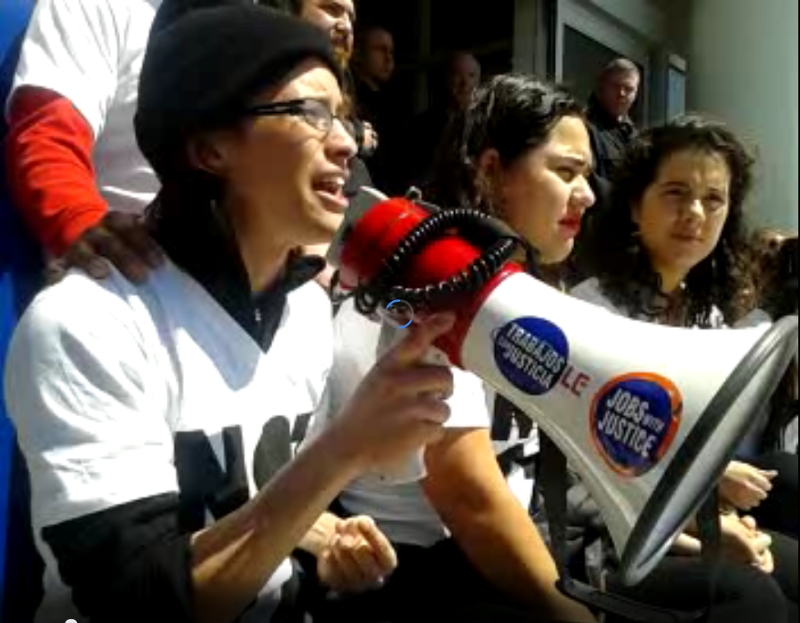 The U.S. Department of Justice released new statistics Wednesday which indicates a 5-year decline in court-ordered deportations from the U.S. interior. The report, however, is limited – covering only the immigration cases that fall under Justice Department jurisdiction. The year-book analysis does not address deportations that take place at or near the borders or circumstances in which immigrants agree to so-called "voluntary departure" instead of risking court-ordered deportation.
Despite the drop in Justice Department court ordered removals, more people have deported from the the United States under President Barack Obama than during any previous presidential administration. The release of the new data comes as immigrant rights activists have ramped up pressure on the Obama Administration to expand what is known as deferred action. Shannon Young reports.
Immigrant rights activists staged a sit-in and blocked the entrance of the Suffolk County Jail in Boston today to protest the Obama administration's record high deportations and the role of the facility in detaining immigrants – many of whom have no criminal record.
The action, broadcast live by a webstreamer with the National Day Laborer Organizing Network, was part of a nationwide civil disobedience campaign calling on the Obama administration to expand deferred action, a program that currently protects undocumented immigrants brought to the U.S. as children from deportation.
Natalia Berthet, one of the sit-in participants, came to the U.S. and lived 20 years without papers "I don't remember where I was born and where I lived before I came to the United States – I don't have many memories – but I can't call this my home because this country rejects and criminalizes our people and our communities," she said through a megaphone. "President Obama, you gave me deferred action, you can expand it for all."
Many of the approximately 20 people who participated in the sit-in at the doors of the jail are from mixed-status families or have personal experience living in the U.S. without authorization.
"I am sick and tired of living in fear," said Laura Gonzalez, who came to the U.S. as a child, fleeing violence in Colombia which directly touched her family. "Every single day, my father wakes up at 2:30 in the morning and he, like so many migrants in this country, works tirelessly to keep this country afloat. And it is not fair that my father, due to anxiety that is caused by this country, heart conditions that are caused by this country, is currently living in a situation that is inhumane. He goes to work every single day with the fear of being deported. And I go home every single day with the fear that one day he will not be there to say 'good night' to us."
Some of the sit-it participants are themselves undocumented. Others, like Bostonian Andres del Castillo, are US-born children of immigrant parents.
"You are tearing us apart!" he said. "You are allowing us – like in my family – not to testify to the fact that we suffer domestic violence, not to testify to the fact that we suffer so many abuses. Why? Because we are afraid to call police. Why? Because the police will send us to these people. Because the police will send our Moms and Dads to jail."
Castillo added that the fear of separation from his mother, who lived undocumented in the U.S. for 27 years, created a situation in which he felt forced to choose as a child between the reality of an abusive home or the threat of being sent to foster care. He blames official programs like Secure Communities, in which local police turn over undocumented persons to immigration authorities, for pushing victims of violence further into the shadows.
In addition to calling on President Obama to expand deferred action, participants in today's protest want Massachusetts lawmakers to pass the TRUST Act, which would limit the Secure Communities program throughout the state. Today's  sit-in ended when police arrested all protestors who refused to move from the jail's entrance.
(Image: Screenshot of the NDLON livestream of the sit-in at the Suffolk County Jail, April 17, 2014)