Turkey approves possibility of military action against "terrorist threats"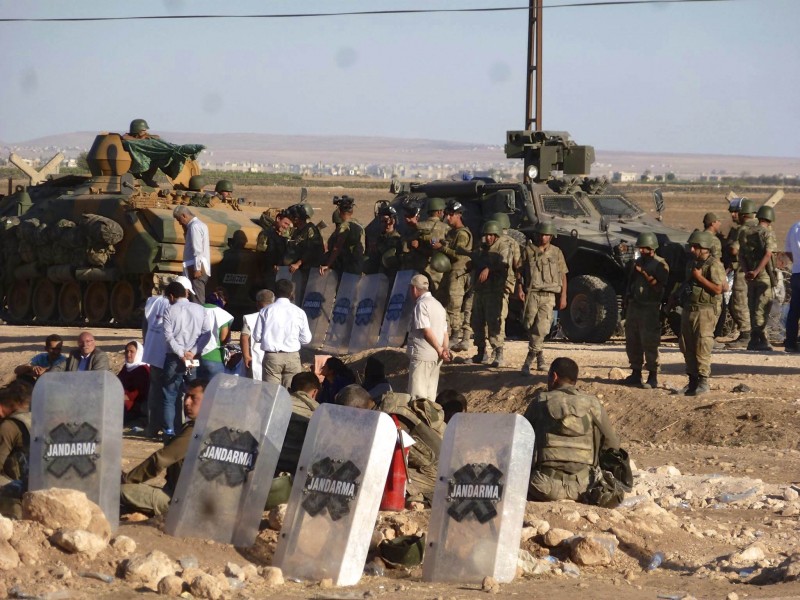 In Syria, the civil war that's raged for more than three years continues on multiple fronts. In the western city of Homs, as many as 41 elementary school children died Wednesday when two explosions targeted their school in a largely pro-government neighborhood. No group has claimed responsibility for the attack.
And fighting in northern Syria continues, where despite airstrikes, the the so-called Islamic State continues its advance on the Syrian Kurdish city of Kobane. Turkish authorities are preventing Turkish Kurds from crossing into Syria to aid Kurdish militias, and many question Anakara's position on the group known in the West as ISIS.
But on Thursday, Turkish lawmakers gave the nod to military action against so-called "terrorist threats" in both Syria and Iraq. They also voted to allow US forces to use Turkish air bases. As Dorian Jones reports, the move is a reversal for the Islamist-rooted government that has even been accused of colluding with ISIS.
The Turkish Parliament passed two motions enabling the government to carry out military operations in Iraq and Syria against what it calls terrorist threats. The legislation also allows foreign forces to use Turkey as a base for operations, opening the door for US planes to use key Turkish airbases.
Turkish military forces are already positioned along the Syrian-Kurdish border. Thousands of soldiers backed by tanks beefed up their presence there this week, initially deployed to control ongoing clashes between Syrian Kurds and Turkish security forces.
As the Islamic State continues a weeks-long siege on the town of Kobane just a mile or so from the border, many Kurds try to storm the frontier. They're not trying to escape the fighting in Syria, but rather to enter the country and join the fight against the militant group.
"We want to go back to Kobane, to join our brothers and sisters fighting against these terrorists, who behead and cut the throats of our people'" explains Hasan, who only wanted to give his first name. "They have done such terrible things, and if Kobane falls, it will be even worse. But the Turks they are stopping us returning, it has become a prison here."
The battles near the border, and Turkey's role in the fight against ISIS, are complex.
For centuries, Kurds across the region have sought their own homeland. For the past three decades the PKK, a Kurdish rebel group in Turkey, has fought the Turkish state for autonomy and a tentative peace process now exists.
Cengiz Aktar of Istanbul's Suleyman Sah University, says the city of Kobane is crucially important to Kurds in both Turkey and Syria.  "Because the Kurds in the region,  be they Turkish Kurds or Syrian Kurds, are actually realizing, applying … are practicing the autonomy, that the Turkish Kurds have been fighting for since years, already in Syria and Ankara does not like that."
The motions passed this week do not specify the so-called Islamic State, but rather authorize military action against "terrorist threats."
Turkey's President Recep Tayyip Erdogan has made it clear he thinks the fight against terrorism in the region should focus as much on the Kurdish rebel group the PKK as the Islamic State: "Hey world, if you openly speak out against ISIS as a terrorist organization, why don't you openly speak out against PKK as a terrorist organization. We must make this struggle against all terrorist organizations in the region and against this understanding targeting Iraq and Syria."
And even as Turkey's Parliament moved toward military action against ISIS, allegations that Ankara has colluded with the jihadists persist.
A video that went viral on social media claims that Turkey sent a trainload of tanks and arms to IS in exchange for this month's release of 46 Turkish prisoners. Other charges range from treating wounded IS fighters to turning a blind eye to illicit oil sales by the militant group to allowing them to use Turkey as a gateway for supporters to join its ranks, as what one Turkish writer described as a"jihadist super highway."
Political scientist Nuray Mert of Istanbul University, says given that Turkey's ruling party has an Islamist conservative background, Ankara must be clearer in words and actions in its condemnation of ISIS.
"Turkey is very reluctant to call them terrorist," according to Mert. "There is no such a voice. Islamists or conservatives of Turkey now in power, they have been reluctant to be seen as critical of any movement, no matter how brutal or whatever to be critical of anything made in the name of Islam."
But while the Turkish parliament did pass the motion authorizing military action, it has refused to indicate in what way it will  join the military coalition. International relations expert Soli Ozel of Istanbul's Kadir Has University says there are clear and present dangers to any military action.
"If the reports are correct, ten percent of IS fighters are Turkish," according to Ozel. "That means there are lots of sympathizers. You never know where there are sleeper cells that may actually decide to commit a violent act in a major city."
Ankara is likely to drive a hard bargain with Washington before it actually engages in any military action against IS – action that Prime Minister Ahmet Davutoglu says will be done in Turkey's interests and no one else's.