From Skid Row to Beverly Hills: counting Los Angeles County's homeless population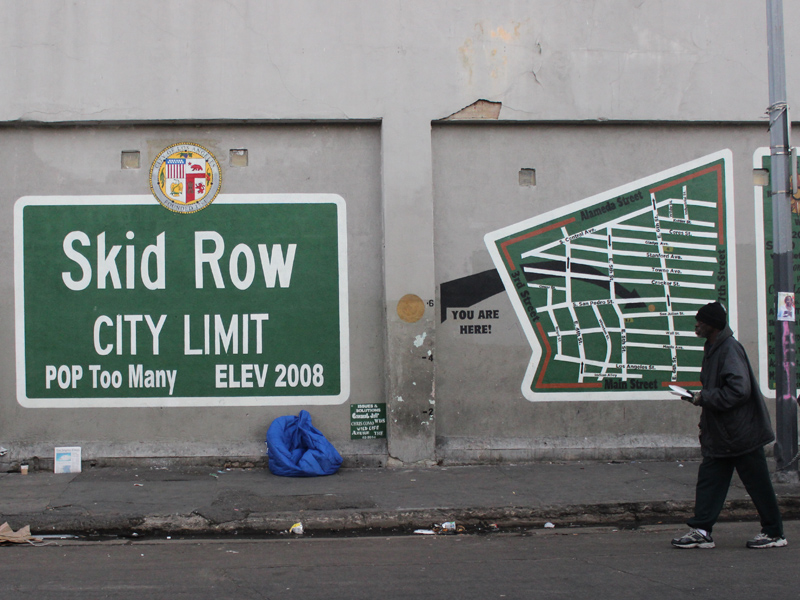 The country's largest  count of homeless people took place this week in Los Angeles. The census included visits from two cabinet members and a legal victory for local veterans who live outside. But as Lena Nozizwe reports, it appears that record numbers of men and women in the U.S. are living without shelter.
From Skid Row, where Los Angeles Mayor Eric Garcetti played warm up man for a visiting group of high-level officials,  to the posh neighborhood of Beverly Hills some 6,000 volunteers fanned out around Los Angeles County this week to take part in the biggest Point-In-Time Count Homeless census in the country.
Census takers in Beverly Hills looked for both people and encampments.
Twelve miles away, volunteers in the Skid Row district had to do nothing more than step outside the gates of the Los Angeles Mission to find thousands of men and women who live in one of the most dense homeless populations in the country.
Thursday night's Skid Row homeless census included appearances by two Cabinet members: Housing and Urban Development Secretary Julian Castro and Department of Veterans Affairs Secretary Robert McDonald.
The VA recently settled a lawsuit which will allow the agency to provide homes for veterans on the 400-acre campus of the Los Angeles VA hospital. The land was donated to disabled veterans back in the late 1800s but the property has been repeatedly leased to a number of commercial entities.
When asked specifically about the 26 homeless vets found at the VA Hospital, Secretary McDonald said his biggest hope for them is that "we do something with that land to be able to provide housing for them. That's why we settled the lawsuit. And that's why we are here."
Secretary McDonald says he is not surprised by the numbers of vets living by the VA hospital, adding that he saw them himself during the count at the facility.
With a count somewhere around 4,000, Los Angeles County also has the country's largest population of homeless veterans.
But even with a census effort, the numbers can be tricky.
Skid Row regular Dice says not all people living in the streets want to be counted: "We'll find some place comfortable if it's on the bridge or any little hut somewhere. We are going to find that cat hole somewhere."
Longtime service providers say they have improved their methods in order to get more accurate counts. They expect the homeless numbers to rise in Skid Row with this year's census because they are seeing the spread of encampments to areas outside of Skid Row and they say they are seeing new faces.
Across town Jim Latta, who oversees homeless services in the city of Beverly Hill, knows the counts are not perfect but he believes they are effective. "It is a count in time and place," he told FSRN. "We know we are not getting everyone. It allows us to keep ourselves in check. Are there people staying that we have never seen before at night. And also it provides some federal funding. Because up until 2009 or so this count was not happening."
A search of a section of the business district and the area around the Beverly Hills Civic Center uncovered evidence of eight homeless people  including two encampments. When compared to the Beverly Hills count from 2013 to now, the number changed almost imperceptibly, declining from 30 to 29.
The dramatically higher numbers in Skid Row mean that it will take a few weeks before the results of the count are available.
That data will serve as a basis upon which to develop policies moving forward.