Survivors of Peshawar school attack grapple with severe trauma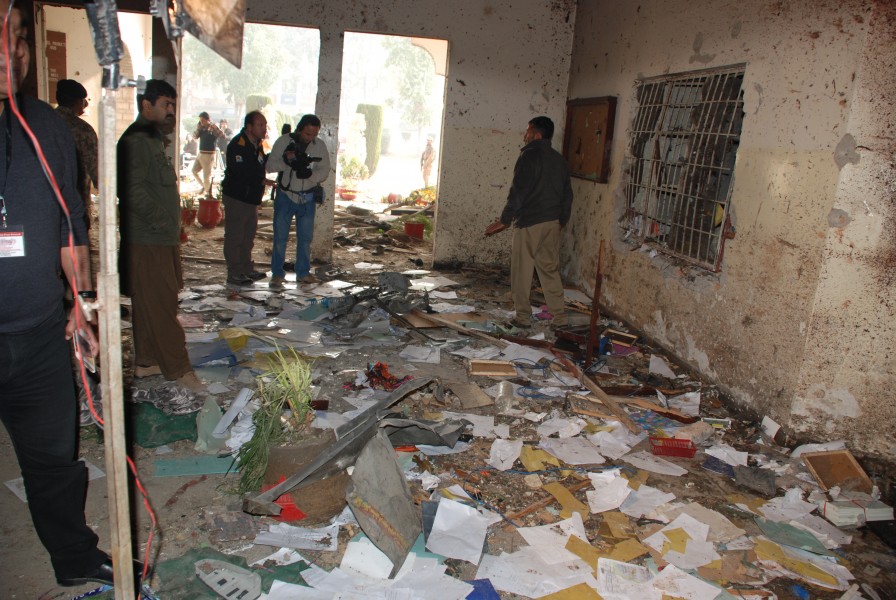 In Pakistan, the official three-day mourning period is over for the more than 130 victims of a recent Taliban attack on a school in Peshawar, but the signs of collective trauma are just starting to emerge. Classes are due to resume  January 12th, but as Fakhar Kakakhel reports, enrollment is expected to nosedive as survivors and their immediate family grapple with fear and depression.
The city of Peshawar is still in the grip of fear and mourning weeks after a Taliban attack on a school killed 134 students and eight teachers. Since then, thousands of people have visited the Army Public School to express solidarity with the victims. But memories of the scenes from that day haunt the children who narrowly escaped death inside the school.
Tenth grade student Zahid Ayub was inside the main auditorium and witnessed the killings of many classmates.
"There were two gunmen and they opened fire on the children," he said. "I was with three classmates in the auditorium where most of the children were killed. We tried to hide behind a row of chairs there. We all laid down. One terrorist came and sprayed bullets on us. I was underneath my friends and all three of them were killed. I can still feel the last movements of my dead friends. It's horrible, I cannot express it."
Parents of the students are also still in shock. On the day they heard about the shooting, many ran directly to the school to search for their kids among the dead bodies.
"Only a mother can tell you what it feels like when she is dead sure that she has lost her child and she is running to search for her son's body," said Samina, the mother of one student. "By that time I was just weeping wondering if my son was in pain and missing me. What would be his last words? Though my son was among the rescued, I'm still feeling that trauma. I am not going to send my child to that school again. Imagine when we heard about what happened how terrifying it was. These are innocent kids. How is witnessing this bloodshed going to affect their minds? I am not satisfied yet about security at the school. It's the government's responsibility and they are still doing nothing."
The school, which goes from first to twelfth grade, had 1500 students enrolled at the time of the attack. Many do not plan to return when classes resume on the 12th of January.  Among them is ten-year-old Ahsan who says he now "feels terrified when left alone" and that memories of the voices of his classmates who were killed in the attack continue to haunt him.
The provincial government of Khyber Pakhtunkhwa closed all educational institutions temporarily in the wake of the attack. But experts believe the process of healing the minds of citizens will take time.
"This has an everlasting effect," says Professor Doctor Khalid Mufti, one of Pakistan's top psychiatrists. He is leading a team to evaluate the effects of trauma in the families of victims of the school attack. "The quality of life is impaired, people are numb, people feel insecure, the whole city feels insecure. The children who are affected, particularly those who are alive and when they have seen their own brothers and sisters killed in front of those they are very angry. They are absolutely perplexed. When we went to their homes they ask one question: will they ever go to school?"
The government estimates more than 50 thousand people have lost their lives during the war on terror in Pakistan, and the country has witnessed hundreds of horrific incidents. Unlike soldiers exposed to violence on a battlefield for limited tours of duty, the traumatic stress experienced by civilians in Pakistan's Federally Administered Tribal Areas is ongoing with no clear end in sight.
While psychologists can try to treat survivors and victims' families and can pull their children out of school, the root cause of the conflict remains intact and civilians pay the highest price.