Murder of Turkish college student leads to revolt against sexual violence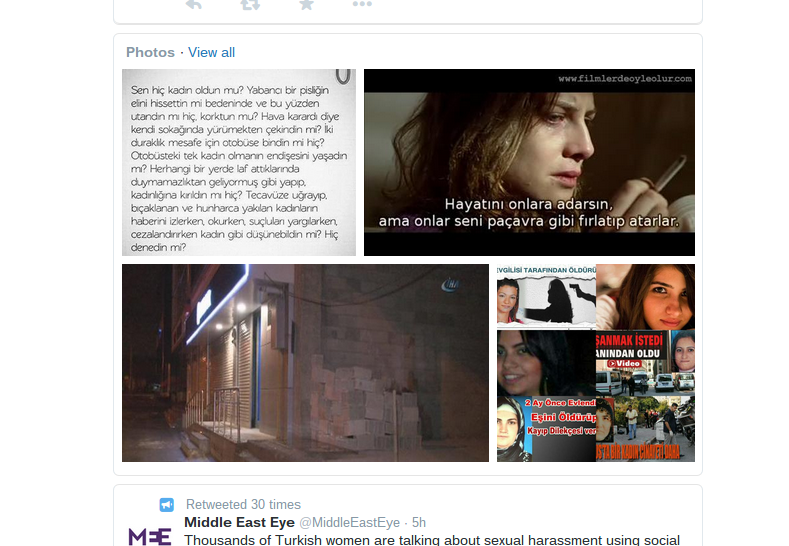 Outrage over last week's killing of a college student in southern Turkey is spotlighting rising violence against women in the country. Both women and men continued to take to the streets Friday demanding an end to a patriarchal culture that downplays the individual rights of women. FSRN's Jacob Resneck reports from Istanbul.

Download Audio
Twenty-year-old Ozgecan Aslan was a university student on her way home when a minibus driver attacked and tried to rape her. According to the assailant's confession, when the young woman resisted by macing him he beat her and stabbed her to death.
Two days later her mutilated and burned body was found in a riverbed. Police arrested three men: the driver, his father and a friend.
Female activists hit the streets to protest the killing. On Taksim Square in central Istanbul, police pulled five activists out of a Burger King and detained them.
But the government couldn't suppress the outrage and soon the Twitter hashtag #sendeanlat, or tell your story, shot into the hundreds of thousands with women relating their stories of abuse or humiliation at the hands of men in Turkey.
"I just wanted women to talk about it – not be ashamed by it and show that through talking about it we can empower each other and I thought about it as a solidarity mechanism," said law professor Idil Everis of Bilgi University in Istanbul, who started the Twitter campaign.
Political leaders from the ruling religiously conservative AK Party have vowed justice in this case. But they have also poured scorn on the idea of gender equality, namely by renaming the Ministry of Women and Family Affairs the Ministry of Family and Social Policy.
Sehnaz Kiymaz of the Istanbul Convention Monitoring Platform, which campaigns for gender rights, says the government's own statements against domestic violence reveal an inherent bias against women.
"They are arguing that women are precious individuals that should be protected and that should be under the protection of men," Kiymaz said. "And our customs argue that men shouldn't hit their wives or their female relatives just because they are under the protection of those men."
By all accounts violence against women has been rising dramatically here during the past decade. But in 2009 the government stopped publishing numbers of women killed annually.
A 2011 Human Rights Watch report found many cases of women in Turkey killed by family members or partners even under nominal police protection.
"On paper, Turkey has pretty good laws that protect from violence," said Emma Sinclair Webb, Human Rights Watch's researcher in Istanbul. "The problem has been that these laws are never implemented and a number of women, even under protection orders from the courts, have been killed while the state has supposed to be protecting them. So there's a feeling, a perception, among women in Turkey that the state just cannot protect women."
Public demonstrations are continuing. This week 15,000 people marched in the city of Mersin where Ozgecan Aslan attended university. That's leading to optimism.
Many women – and men – are feeling empowered to speak out on these issues.
"I think we are seeing something very civic here which is something that Turkey is not accustomed to," Elveris said.
Turkey has finally woken up to its domestic violence problem. With more marches scheduled in the coming days, women in Turkey are demanding action rather than hollow initiatives or cries of vengeance against assailants after the fact.