Questions surround LAPD shooting of homeless man on Skid Row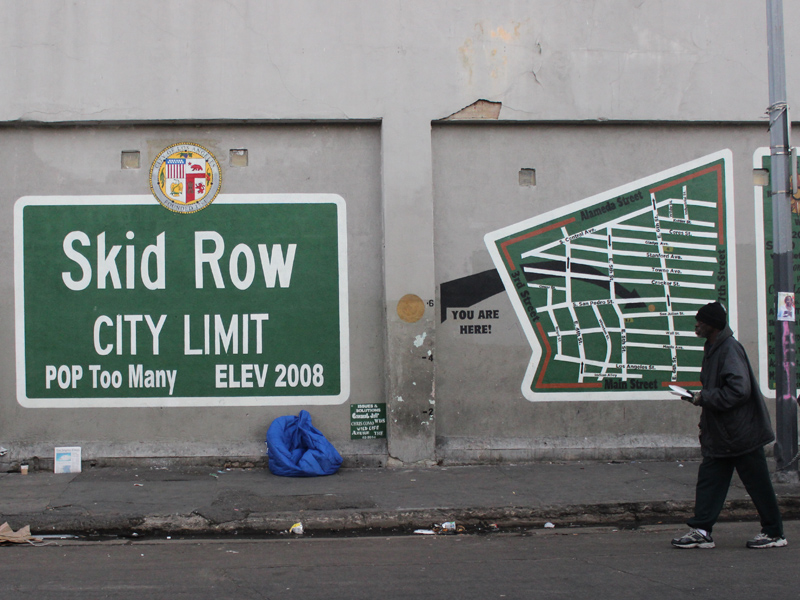 An unarmed homeless man was shot and killed by police officers in Los Angeles Sunday. FSRN's Larry Buhl has more.
Details are emerging about the death of a homeless man shot by three Los Angeles Police officers on the city's Skid Row Sunday. A bystander captured the incident on video, which went viral on social media almost immediately.
LAPD said the officers, one of whom is a sergeant, were responding to a report of a robbery and one of the officers used a stun gun to subdue the man. Police Chief Charlie Beck said when the stun gun failed to subdue him, the victim went for one of their guns and that an enhanced image of the video shows the victim reaching in the direction of an officer's waistband. On the video five apparent gunshots could be heard, presumably all from police officers.
Three officers fired at the man, and two of them were wearing body cameras. Police say any video captured by body cameras and local surveillance cameras will be considered in the investigation.
Officials have not released the victim's name, but those who know him say he went by "Africa."
Pete White is the co-executive director of the L.A. Community Action Network, a homeless advocacy group in Skid Row. He says it's essential for the community to hold the police accountable and ask questions.
"I anticipate the result of this if community residents don't get involved, is to sweep this under the rug. It will be yet another case of the police department saying we were right they were wrong, this is what you're paying me for," he told FSRN.
Tents and cardboard shelters cover the sidewalks of Skid Row, where there's a history of tension between the residents and the LAPD. Police have long been accused of harassing the homeless. A high percentage of the nearly 2,000 homeless people there struggle with mental illness and addiction.
The D.A.'s office and the Los Angeles police commission's Inspector General are conducting independent investigations to determine if the officers violated policy.
Skid Row residents familiar with "Africa" say the man had spent time in a mental institution.
The LAPD has a special force trained to deescalate situations involving the mentally ill. Why the LAPD didn't deploy special officers to the scene, is just one of many questions yet to be answered.