Eastern Aleppo evacuation deal on again, off again; bombs backdrop in farewell videos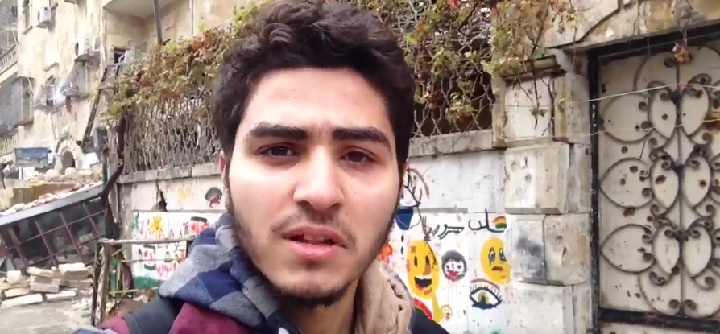 The world watches online as the Syrian government forces led by Bashar Al Assad carries out what appears to be an irreversible takeover of the rebel held areas of what was once Syria's largest city. An agreement to evacuate thousands of civilians from the area today was broken by renewed violence, but is reportedly back on track for early Thursday. Nell Abram has more.
A plan to evacuate civilians from the last remaining patch of rebel-held eastern Aleppo fell apart at the last minute Wednesday morning, even as buses lined up to transport them out of the besieged area.
The Syrian government, backed by Russian air power, launched a massive offensive to take over the districts of Aleppo that have been under rebel control for most of the country's ongoing civil war. The Assad regime is declaring near total victory, with rebel territory in the city reportedly now reduced to an area the size of a square mile.
People within the rebel remnant have been giving what they say may be their last goodbyes in videos posted on social media with the sound of bombs and munitions detonating in the background.
They blame the collapse of Wednesday morning's evacuation ceasefire on Russian airstrikes and Iranian militia groups.
@ZouhirAlShimale: "Hey everybody, the attacks have been very intensified now against the east, and my area as well. It's in Mashar district."
@LinaShamy: "Civilians are stuck again in the city. No one could leave the city under this agreement. How can we trust Russia after they have promised that this agreement will go through and that no one will attack the civilians? How can we trust Russia?"
@Mojahedaboaljod: (in Arabic)
@SalahAshkar: "This situation, it is still very bad. Our children are frustrated, our women are so afraid of being beaten… So you have to act now."
Huge columns of smoke and dust can be seen rising from the eastern part of the city in a video released by the Syrian military Wednesday.
The Syrian government characterizes its actions in eastern Aleppo as an operation to liberate the area from terrorists.
"They've crossed all the lines in pursuit of their goals and those goals apparently include depraved tactics, like trying to starve innocent civilians into submission, bombing hospitals and playgrounds, targeting them," said White House spokesperson Josh Earnest in Wednesday's press briefing. "These tactics are depraved, they do cross just about every line I can think of and frankly they cross lines I hadn't previously thought of."
Meanwhile, international powers alternate between silence and finger pointing.
"This is a dark day for the people of Aleppo, surely the darkest of the past five years," said British Ambassador to the UN, Matthew Rycroft, at an emergency meeting of the Security Council. "The Security Council has failed. It has failed because Russia has used and abused its veto time and again."
In a written statement released Wednesday, UN High Commissioner for Human Rights Zeid Ra'ad al Hussein, said that while "the reasons for the breakdown in the ceasefire are disputed, the resumption of extremely heavy bombardment by the Syrian Government forces and their allies on an area packed with civilians is almost certainly a violation of international law and most likely constitutes war crimes."