No court ruling for Dakota Access; Missouri River crossing still stalled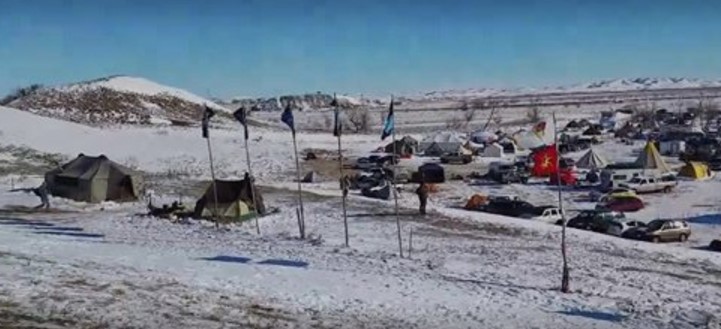 After a major winter storm broke at the Oceti Sakowin protest camp in North Dakota, many people began to head for home, after the U.S. Army Corps of Engineers refused to grant an easement to Dakota Access pipeline developers. The company, Energy Transfer Partners, asked a court to grant them permission to move forward anyway. But during a Friday hearing, the D.C. District Court did not rule on that request. FSRN's Nell Abram has more.
Opponents of the Dakota Access pipeline remain cautiously optimistic, after the Army Corps of Engineers refused to grant an easement to the last bit of land necessary for developers to bore under a reservoir on the Missouri River.
The announcement, which came as thousands of U.S. veterans arrived at the Oceti Sakowin camp, was met with jubilation. During a forgiveness ceremony Monday, Wes Clark, Jr. – the son of former NATO military commander U.S. General Wesley Clark Sr. – took a knee and issued an apology for past crimes committed against the region's original residents, carried out or enabled by then-members of the U.S. armed forces.
"We came here to be the conscience of the nation and within that conscience we must first confess our sins to you, because many of us, in particular all of our units that have harmed you over the many years. We came, we fought you, we took your land, we signed treaties that we broke. We stole minerals from your sacred knolls. We blasted the faces of our presidents onto your sacred mountain," Clark explained. "We took your land, then we took your children, and then we tried to take your language. We tried to eliminate your language, that god gave you, that the creator gave you. We didn't respect you. We polluted your earth. We've hurt you in so many ways. And we have come to say that we are sorry, we are at your service. We beg for your forgiveness."
But the celebration was quickly tempered by a statement from Energy Transfer Partners – the developers of the project – saying the company fully expects to complete pipeline construction, without rerouting. And reports of an oil spill about miles away in a tributary that feeds the Little Missouri River underscored continued concern.
As the news settled in, so did a major snowstorm – bringing arctic conditions with sub-zero temperatures to the camps where thousands of people were lodging as part of the massive resistance to the four-state, nearly $4 billion pipeline.
"There's no need for the water protectors or for anybody to be putting ourselves in unsafe environments. We have a winter storm, we have cold weather coming," said Standing Rock Sioux Chairman Dave Archambault.
He issued a video statement in which he said the battle has now entered a new phase, one that will play out over months, and citing public safety concerns he encouraged people to leave the camp.
"There's no action that's going to take place by the company," Archambualt continued. "If they violate that easement, it's going to threaten all of the investors' money; it's going to threaten the project entirely because they will never get an easement if they cross the boundary. So, what we need to do, is we have to be proud of what we did, we have to be honored by the victory. And it's time now, it's time to go home."
But some plan to ride out the harsh, frigid North Dakota winter at the camp to keep an eye on the now-paused pipeline construction.
The company asked the D.C. District Court this week to issue an expedited ruling allowing them to continue work on the Army Corps land, but no rulings were issued in a Friday hearing.
Energy Transfer Partners claims it has lost hundreds of millions of dollars due to project delays and risks losing the contract to the very oil that they plan to route from the Bakken oilfields to an Illinois transfer hub.
President-elect Donald Trump's transition team has indicated that he supports the pipeline project and will review the matter once he takes office. Trump held investments in the company as recently as last year and its CEO donated more than $1.5 million to the Trump campaign.
With just six-weeks until Inauguration Day, the president-elect is quickly naming nominees for cabinet roles and high-level administration positions. This week, he selected Oklahoma Attorney General Scott Pruitt as his pick to head the Environmental Protection Agency. Pruitt has a history of public hostility towards the EPA, questions the reality of human-caused climate change and is closely allied with the fossil fuel industry.