OAS member states meet on mass deportations of Haitians from Dominican Republic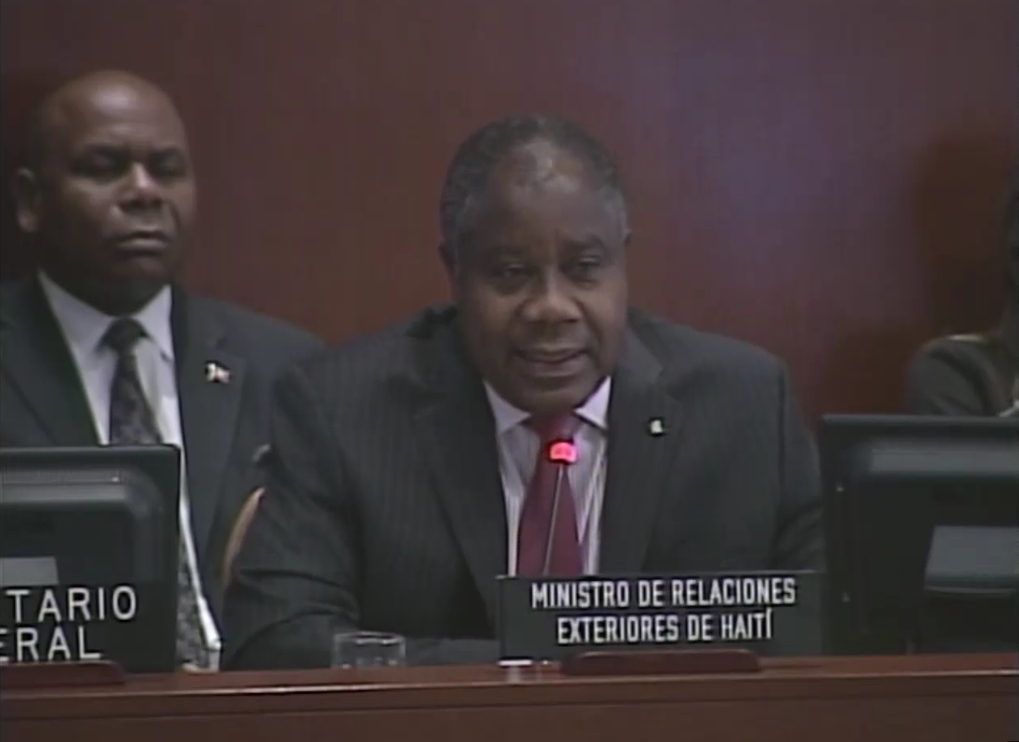 In the past few weeks, the Dominican Republic has sent tens of thousands of Haitian migrants back to Haiti. The permanent council of the Organization of American States met today to discuss a controversial law that allows the Dominican Republic to deport Haitians en masse and even retroactively strip Dominican citizenship from persons of Haitian descent born on Dominican soil. Shannon Young has more.
The Dominican Republic has deported an estimated 40,000 Haitians since a deadline to confirm legal immigration status expired. At least another 200,000 Haitians or Haitian-Dominicans face the same fate.
A 2013 Dominican court ruling allows authorities to retroactively strip citizenship from people born on Dominican soil if they do not have at least one Dominican parent, which critics say will create a stateless population.
It's a situation Haiti's Foreign Minister Lener Renauld calls a "humanitarian crisis." Renauld asked OAS representatives to send a mission to Hispaniola, the island it shares with the Dominican Republic, and to take a position on the issue.
"Brothers and sisters," he said, "because we are for better or worse – we're condemned as it were to share the earth, condemned to share the same island, the same blue sky above us, the same blue sea. This is our destiny. We are condemned to living together. So we are not asking for any favors. Nor have we come here to beg, to ask for mercy in any way. We came here simply to demand justice. Justice for our brothers. Justice for our sisters."
OAS Permanent Representative of the Dominican Republic Pedro Verges bristled at the criticism, saying that immigration policy is a sovereign affair.
"Ladies and gentlemen, no one — absolutely no one — can ask the Dominican Republic to shoulder the responsibilities of another state," said Vergas, stating that his country had given Haitian migrants a fair chance to submit their paperwork and blamed the Haitian government for failing to properly provide its citizens with the necessary identification documents.
Verges said Haiti has long been in a crisis situation and that it isn't fair to expect the Dominican Republic to bear a disproportionate burden.
"We are perhaps affected most directly and most dramatically from the constant crisis in Haiti, a crisis that we believe does not have any end in sight in the short term," the Dominican representative continued. "That said, we see as unfair any statement that portrays our country as a monster seeking to unleash uncivilized tactics. And those who heard my last statement, I hope you understand it. Everything has a limit."
Verges denied that what's happening now at the border is "mass deportation," instead referring to the large-scale transfers as "voluntary repatriations."
Haitian Foreign Minister Renauld differed: "We were present at Canada Day, celebrating Canada Day in Haiti, when the alarm came to us that at 1:00 a.m. Haitians were being dumped across the border. Now, how is that possible? You think that's a voluntary departure? That you depart at 1:00 in the morning?"
While many OAS states took a middle-ground stance, the block of Caribbean nations known as CARICOM took a more firm position. Omari Seitu Williams is the deputy head of mission from the Caribbean nation of Saint Vincent and the Grenadines.
"If indeed these persons are Haitians who have been voluntarily self-deporting en masse, then it is because of the climate of violence and fear which has been generated in the Dominican Republic," Williams said. ""Unlike some countries that have remained mute on this issue, Saint Vincent and the Grenadines cannot and will not remain silent on this issue which violates the basic tenets of human rights. This is simply not a bilateral issue or an issue of a sovereign nation. It is indeed a matter of human dignity and the egregiousness of the Dominican laws is reflected in the justifiable international outrage and response the laws."
Both Haiti and the Dominican Republic welcomed the proposal to host an OAS delegation to observe the situation at the heart of the dispute. Just when that mission will occur has yet to be determined.